KSA 2020 SHERIFF OF THE YEAR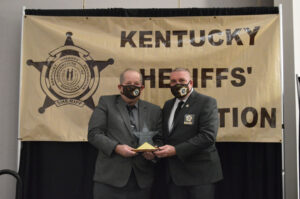 MERCER COUNTY, SHERIFF ERNIE KELTY
OUR SHERIFF OF THE YEAR IS A VETERAN OF THE U.S. AIR FORCE AND 34 YEARS OF LAW ENFORCEMENT SERVICE.
SERVING IN HIS THIRD TERM AS SHERIFF HE HAS GREATLY ENHANCED THE SERVICE AND EFFICIENCY OF HIS AGENCY.
HE SETS HIGH STANDARDS AND LEADS FROM THE FRONT TO ATTAIN THEM.
FROM A DETAILED POLICY AND PROCEDURAL MANUAL TO A RESTRUCTURED PROPERTY AND EVIDENCE ROOM TO MEET AND EVEN EXCEED ALL STATE LAWS, OUR SHERIFF OF THE YEAR IS A HANDS-ON LEADER.
THROUGH HIS LEADERSHIP HIS OFFICE HAS FORGED PARTERSHIPS OF SUPPORT WITH LOCAL P.D.'S, NEIGHBORING SHERIFF'S OFFICES, AND FEDERAL AGENCIES.
HIS OFFICE HAS ALSO DEVELOPED A POSITIVE RELATIONSHIP WITH THE CITIZENS THEY SERVE THROUGH NEIGHBORHOOD WATCH PROGRMS, TOWN HALL MEETINGS, AND CHILDREN'S EVENTS.
HE ALSO ESTABLISHED A SHERIFF'S ADVISORY BOARD WITH VARIED REPRESENTATIVES TO REFLECT THE MAKEUP OF THE COUNTY.
HE IS A DEDICATED SERVANT WHO READILY GIVES HIS PERSONAL CELL PHONE NUMBER TO ANY CITIZEN WHO FEELS A NEED TO CONTACT HIM.
HE IS A SHERIFF'S SHERIFF AND HE IS THE KSA 2020 SHERIFF OF THE YEAR FROM MERCER COUNTY ,SHERIFF ERNIE KELTY
KSA MEDAL OF HONOR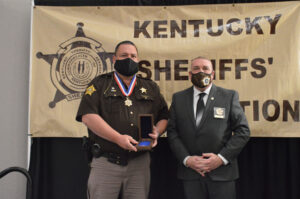 MEADE COUNTY SHERIFF'S OFFICE, DEPUTY SCOTTY SINGLETON
IT WAS ABOUT 3:15 IN THE AFTERNOON ON JUNE 7 WHEN MEADE COUNTY DEPUTY SHERIFF, SCOTTY SINGLETON RESPONDED TO A LIFE THREATENING INCIDENT.
A YOUNG BOY HAD ACCIDENTLY DROVE A UTV INTO A POND ON THE FAMILY FARM.  THE VEHICLE WAS COMPLETELY SUBMERGED UPSIDE DOWN WITH THE BOY TRAPPED SOMEWHERE UNDERNEATH.
DEPUTY SINGLETON WAS FIRST TO ARRIVE ON THE SCENE AND WITHOUT ANY DIVING GEAR OR REGARD FOR HIS OWN SAFETY, ENTERED THE 8 FOOT DEEP POND AND IMMEDIATELY  BEGAN SEARCHING FOR THE BOY, BUT TIME WAS RUNNING OUT…THE YOUNGSTER WOULD NOT SURVIVE MUCH LONGER UNDER WATER WITHOUT AIR.
AFTER SEVERAL UNSUCCESSFUL UNDER WATER SEARCH ATTEMPTS, DEPUTY SINGLETON WAS ABLE TO SUMMON HELP IN HOOKING A CHAIN ONTO THE SUBMERGED UTV AND THE OTHER END TO A TRUCK.
IT WAS STILL DIFFICULT TO PULL THE UTV OUT DUE TO A LARGE DROP-OFF IN THE 8 FOOT AREA OF THE POND, BUT FINALLY ONE OF THE CHILD'S FEET CAME INTO VIEW AND THEY WERE ABLE TO DETERMINE THAT HE WAS ACTUALLY TRAPPED UPSIDE DOWN IN THE REAR PORTION OF THE UTV, ENTANGLED IN THE SEATBELT.  ACTING QUICKLY, DEPUTY SINGLETON WAS ABLE TO CUT THE SEATBELT AND THE BOY WAS FINALLY FREED AND HANDED OFF TO ARRIVING EMT'S, BUT WAS IT IN TIME?  HE HAD BEEN UNDER WATER FOR SOME TIME. AND WAS TURNING BLUE.
IT WASN'T UNTIL THE HOSPITAL WAS ABLE TO CONFIRM THAT IN FACT THE YOUNG BOY WAS REVIVED IN THE AMBULANCE BY EMT'S DURING TRANSPORT.  
THANKS TO THE COURAGE OF A DEPUTY SHERIFF WHO LEFT A TRAIL OF HIS CLOTHING AND DUTY GEAR ALL THE WAY FROM HIS CRUISER TO THE POND'S EDGE.
AMPLE EVIDENCE OF THE AGE OLD QUOTE "NOT HERE – NOT TODAY – TODAY, I WIN THE FIGHT!"
FOR HIS QUICK, BRAVE RESPONSE TO SAVE A LIFE AT RISK TO HIS OWN, THE KSA MEDAL OF HONOR IS PRESENTED TO MEADE COUNTY DEPUTY SHERIFF, SCOTTY SINGLETON
KSA MEDAL OF HONOR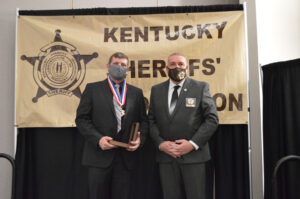 MERCER COUNTY SHERIFF'S OFFICE, DEPUTY WES GADDIS
A VEHICLE PURSUIT IN WHICH YOU ARE TRYING TO STOP A FLEEING SUSPECT IS ONE THING, BUT HOW ABOUT  TRYING TO STOP AN OUT OF CONTROL VEHICLE WITH A STUCK ACCELLERATOR DRIVEN BY AN INNOCENT BUT  FRANTIC MOTHER WITH A BABY IN THE CAR AT 70 PLUS MPH?
NOW ADD TO THAT, THE MOTHER IS SO FRIGHTENED THAT THE GUIDANCE OF WHAT TO TRY TO DO TO STOP THE SPEEDING CAR FROM A DEDICATED RADIO DISPATCHER IS FALLING ON BROKEN COMMUNICATION AND HISTERIA.
NOW ADD TO THAT DELIMA THE FACT THAT THE CAR IS RAPIDLY APPROACHING THE MOST CONGESTED INTERSECTION IN THE COUNTY AND IT SOUNDS LIKE WE HAVE THE MAKING OF A TV COP SHOW.
BUT THIS WAS REAL LIFE AND THE DEPUTY WHO HEARD THE CALL AND WAS FORTUNATELY CLOSE BY DIDN'T HAVE A WRITTEN SCRIPT TO GO BY.
HE SIMPLY HAD TO THINK FAST TO SAVE NOT JUST THE TWO LIVES IN THE SPEEDING CAR BUT LIKELY OTHERS IF SHE ENTERED THAT BUSY INTERSECTION AT A HIGH RATE OF SPEED.
THE CHOICES WERE FEW, THE RISKS WERE GREAT AND THE TIME TO ACT WAS GROWING VERY SHORT.
IF HE PULLED ALONGSIDE HER AND MOTIONED WOULD SHE PANIC AND CRASH INTO THE POLICE CRUISER OR RUN OFF THE ROAD AND CRASH OR TURN OVER…..WHAT WOULD YOU DO?
WELL…….DON'T GO AWAY ……WE'LL BE RIGHT BACK ……AFTER THESE COMMERCIALS.
OH THAT'S RIGHT…….THIS IS NOT TV …..THIS IS REAL AND REQUIRES REAL COURAGE BY A REAL LAW ENFORCEMENT OFFICER.
DEPUTY GADDIS… WITHOUT REGARD FOR HIS OWN SAFETY SPED PAST THE CAR, PULLED IN FRONT OF IT AND REDUCED HIS SPEED UNTIL SHE CAME IN CONTACT WITH HIS CRUSIER.  HE WAS THEN ABLE TO BRAKE SLOWLY AND BRING BOTH CARS TO A STOP JUST BEFORE THE INTERSECTION WITH HER ENGINE STILL REVING AT HIGH RPM.
SO, FOR HIS REAL LIFE SAVING ACTIONS AT GREAT RISK TO HIS OWN…..THE KSA MEDAL OF HONOR IS PRESENTED TO MERCER COUNTY SHERIFF'S OFFICE, DEPUTY WES GADDIS
KSA MEDAL OF VALOR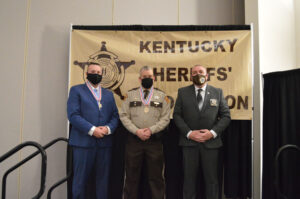 MERCER COUNTY SHERIFF'S OFFICE, DEPUTIES SEAN BROWN & DAVID PRATHER
BUT, YOU CAN'T ALWAYS SAVE EVERYBODY. SOMETIMES YOU JUST DON'T GET THERE IN TIME……………….. AND SOMETIMES THERE IS SIMPLY NOTHING YOU CAN DO WHEN YOU ARRIVE…..IT'S JUST TOO LATE.
THAT'S PROBABLY WHAT WAS GOING THROUGH THE MINDS OF OUR TWO DEPUTIES WHEN THEY WERE DISPATCHED TO AN INJURY COLLISION ON MACKVILLE ROAD JUST OUTSIDE OF HARRODSBURG.

ON ARRIVAL, THEY FOUND TWO ADULTS (A MAN AND A WOMAN) DEAD OF SEVERE TRAUMA SUFFERED AFTER THEIR SUV LEFT THE ROADWAY AND STRUCK A TREE AND GUARDRAIL.  IT WAS ABOUT THE TIME THAT SMOKE STARTED TO ENGULF THE TWISTED METAL THAT WAS ONCE A LATE MODEL SUV THAT
THE DEPUTIES SPOTTED THE BACK PORTION OF A CHILD SAFETY SEAT.
ACTING AS A TEAM, THE TWO DEPUTIES CRAWLED INTO THE SMOKING CAR WITHOUT REGARD FOR THEIR OWN SAFETY.
WHEN THEY REACHED THE CHILD, ONE DEPUTY CUT THE SEAT BELT AND THE OTHER ONE LITERALLY CAUGHT THE FALLING, FREED CHILD. 
THE CAR COULD HAVE CAUGHT FIRE AT ANY MOMENT BUT THANKS TO THE QUICK ACTIONS OF THE TWO DEPTIES, THE CHILD ONLY SUFFERED MINOR PHYSICAL INJURIES AND ONE COULD ONLY HOPE AND PRAY SHE WAS TOO YOUNG TO REMEMBER THAT SHE LOST BOTH HER PARENTS ON THAT FATEFUL NIGHT.
FOR THEIR COURAGE AND QUICK ACTIONS THE KSA MEDAL OF VALOR IS PRESENTED TO MERCER COUNTY DEPUTIES, SEAN BROWN AND DAVID PRATHER.
KSA CITIZEN SUPPORT AWARD
MERCER COUNTY SHERIFF'S OFFICE, SUE ABRAMS GRAY
SHERIFF AUBREY OFTEN SAYS THAT IF YOU GIVE SOMEONE YOUR TIME…IT CAN NEVER BE REPAID….IT'S GONE FOREVER AND CAN NOT BE REPLACED.
OUR RECIPIENT FROM MERCER COUNTY NOT ONLY GIVES OF HER TIME BUY HER MANY TALENTS AND EVEN MONEY TO HELP OTHERS, ESPECIALLY THOSE THAT MAKE UP THE THIN BLUE LINE.
MERCER COUNTY CHIEF DEPUTY SCOTT ELDER SAYS HE CAN'T BEGIN TO COUNT THE MANY TIMES THAT SUE HAS COME TO THE AID OF THEIR OFFICE WITH NEEDED EQUIPMENT AND A HELPING, CARING HAND.
WELL WE CAN'T GIVE SUE BACK HER DONATED TIME BUT WE CAN GIVE HER OUR HEARTFELT THANKS, APPRECIATION AND…
THE KSA CITIZEN SUPPORT AWARD.  MANY THANKS TO SUE ABRAMS GRAY
KSA CIVILIAN SUPPORT AWARD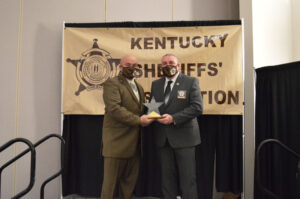 NELSON COUNTY SHERIFF'S OFFICE, HEAVEN HILL DISTILLERY
MOST OF US REMEMBER HOW DIFFICULT IT WAS TO GET NECESSARY PPE EQUIPMENT AND SUPPLIES FOR OUR PERSONNEL WHEN THE COVID 19 BECAME A PANDEMIC.
ONE NEEDED ITEM IN PARTICULAR WAS HAND SANITIZER.  NELSON COUNTY IS THE PROUD HOME OF HEAVEN HILL BRANDS.
SEEING THE DESPERATE NEED THEY WENT INTO PRODUCTION TO HELP.  AND HAND SANITIZER WAS OFFERED TO ALL FIRST RESPONDERS IN THE IMMEDIATE AREA AND EVENTUALLY WAS DISTRIBUTED TO FIRST RESPONDERS ACROSS THE ENTIRE COMMONWEALTH AND BEYOND.
FOR THEIR UNSELFISH AND GENEROUS SUPPORT AT A MOST CRITICAL TIME FOR ALL OF US……THE KSA CITIZEN SUPPORT AWARD IS PRESENTED TO HEAVEN HILL DISTILLERY.
ACCEPTING THE AWARD TONIGHT IS SHERIFF RAMON PINEIROA, NELSON COUNTY.
KSA LIFE SAVING AWARD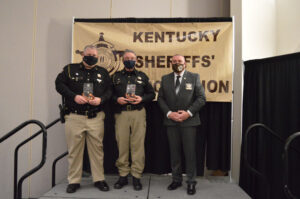 CALDWELL COUNTY SHERIFF'S OFFICE, DEPUTIES STEVE LADD & JASON KIRK
IT WAS ABOUT NOON WHEN CALDWELL COUNTY DEUTIES, STEVE LADD AND JASON KIRK WERE DISPATCHED ON A WELFARE CHECK OF A WOMAN WHO HAD NOT BEEN HEARD FROM FOR THE PAST 24 HOURS.
SHE HAD HAD RECENT SURGERY AND THE HOME HEALTH AGENCY WAS GETTING NO ANSWER TO THEIR REPEATED PHONE CALLS.
DEPUTIES LADD AND KIRK GOT NO RESPONSE TO THEIR DOOR KNOCKING AND PHONE CALLING ATTEMPTS.  THEY COULD HEAR THE PHONE RINGING, BUT NO ONE WAS ANSWERING.
FEARING THE WORSE.  THE DEPUTIES FINALLY GAINED ENTRANCE TO THE HOUSE. SEARCHING ROOM TO ROOM THE WOMAN WAS LOCATED LYING ON A BED IN THE BEDROOM.  SHE WAS UNRESPONSIVE UNTIL DEPUTY KIRK BEGAN A STERNUM RUB.  SHE FINALLY RESPONDED WITH SHALLOW BREATHING.
EMS ARRIVED ON THE SCENE AND TRANSPORTED HER TO HOSPITAL IN CRITICAL BUT STABLE CONDITION.
SOME MIGHT SAY, IT WAS ALL IN A DAYS WORK FOR THE TWO VETERAN DEPUTIES BUT  FOR THE WOMAN WHO WAS WEAK, SCARED, CONFUSED AND ALL ALONE IT WAS A SECOND CHANCE AT LIFE THANKS TO THE PERSERVEARNCE AND LIFE SAVING EFFORTS OF TWO MEN IN UNIFORMS WHO ACTUALLY CARED.
FOR THEIR LIFE SAVING ACTIONS THE KSA LIFE SAVING AWARD IS PRESENTED TO CALDWELL COUNTY DEPUTIES, STEVE LADD AND JASON KIRK.
KSA LIFE SAVING AWARD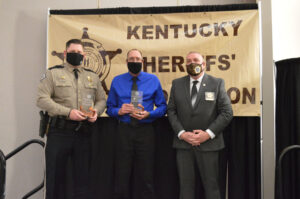 MONTGOMERY CO. SHERIFF'S OFFICE, DEPUTIES TERRY BARNETT & JARED GARLAND
WHEN DEPUTIES TERRY BARNETT AND JARED GARLAND RESPONDED TO A SUICIDAL SUBJECT IN A REMOTE AREA OF MONTGOMERY COUNTY PERHAPS THEY WERE EXPECTING TO FIND SOMEONE THEY WOULD HAVE TO TALK OUT OF TAKING THEIR OWN LIFE, BUT ON ARRIVAL THEY FOUND AN UNRESPONSIVE WOMAN WITH A GUNSHOT WOUND TO THE CHEST. 
TREATING WHAT'S CALLED A "SUCKING CHEST WOUND" IS DIFFICULT AND TIME IS OF THE UTMOST IMPORTANCE.
THE TWO DEPUTIES QUICKLY IMPROVISED AN OCCLUSIVE BANDAGE AND SEALED THE LIFE-THREATENING WOUND AND PROVIDED OTHER LIFE SAVING MEASURES UNTIL EMS ARRIVED TO TRANSPORT THE VICTIM.
DUE TO THEIR EFFORTS THE VICTIM SURVIVED AND HAS SINCE RETURNED TO HER FAMILY WITH A RENEWED OUTLOOK ON LIFE.
THE KSA LIFE SAVING AWARD IS PRESENTED TO MONTGOMERY COUNTY DEPUTY SHERIFFS, TERRY BARNETT AND JARED GARLAND.