Each year the KSA Recognizes Sheriff's, Deputies and Civilians who have gone above and beyond. What follows below is the entire presentation script as it was read by Lieutenant Colonel Carl Yates of the Jefferson County Sheriff Office at the awards banquet with the photos of these fine people.
GOOD EVENING EVERYONE.

WELL….WE HAVE COME TOGETHER THIS WEEK TO LISTEN…TO LEARN…TO NETWORK…TO HAVE SOME FUN AND TO CONDUCT THE ON-GOING BUSINESS OF THE KENTUCKY SHERIFF'S ASSOCIATION.

AND NOW…..AS PART OF THAT ON-GOING BUSINESS WE WILL PAUSE ON THIS NIGHT TO RECOGNIZE AND TO HONOR SOME OF OUR OWN.
KSA SPECIAL APPRECIATION AWARD
TO BEGIN……OUR FIRST CATEGORY FOR RECOGNITON IS A SPECIAL APPRECIATION AWARD FOR A VERY SPECIAL INDIVIDUAL.

I'M SURE MOST EVERYONE HERE AS PARTICIPATED IN SOME WAY WITH THE ANNUAL TICKET SALES ON THE GATOR THAT WILL BE GIVEN AWAY AT THE END OF OUR PROGRAM.

BUT THERE WAS ONE YOUNG MAN WHO WENT ABOVE AND BEYOND. HE CAME TO THE STATE FAIR THIS YEAR LIKE MOST YOUNG FOLKS HIS AGE TO ENJOY THE FAIR AND ALL IS HAS TO OFFER.

BUT HE ALSO CAME FOR ANOTHER, MORE IMPORTANT REASON……HE CAME TO HELP US OUT. HE CAME TO SELL GATOR TICKETS…….A LOT OF GATOR TICKETS……..AND OH HOW HE COULD SELL.

JUST AS ONE EXAMPLE…. HE WOULD NOT LET THIS ONE MAN LEAVE OUR AREA WITHOUT BUYING A TICKET .

SO, HE FOLLOWED HIM FOR SOME DISTANCE DOWN THE ISLE WITH A CONSTANT DIALOGUE ABOUT ALL THE GOOD HIS TEN DOLLAR PURCHASE WOULD DO FOR THE BOYS AND GIRL'S RANCH AND ON AND ON AND ON.

WHICH PROMPTED ONE OF OUR DEPUTIES TO FINALLY SAY "SIR YOU MIGHT AS WELL BUY A TICKET OR HE'LL FOLLOW YOU ALL THE WAY TO YOUR CAR AND PROBABLY GET IN WITH YOU"

THE MAN BOUGHT TWO TICKETS.

SO, FOR HIS PERSISTENT CAN DO ATTITUDE AND HIS UNSELFISH GIFT OF TIME AND SALES EXPERTISE…..THE KSA SPECIAL AWARD OF APPRECIATION IS PRESENTED TO MR. NATE CRAIN.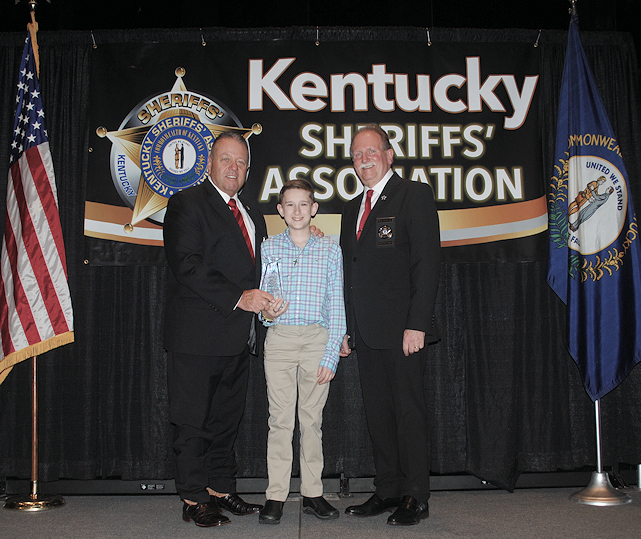 ---
HEROS
AND NOW IT'S TIME TO RECOGNIZE THOSE WHO HAVE GONE ABOVE AND BEYOND………

MANY GREAT AUTHORS, PRESIDENTS, AND MILTARY LEADERS HAVE OFFERED TO DEFINE WHAT MAKES AN INDIVIDUAL A HERO.

ONE OFFERING STATED …..THAT "WHEN THE WILL DEFIES FEAR, WHEN DUTY THROWS THE GAUNTLET DOWN TO FATE, WHEN HONOR SCORNS TO COMPROMISE WITH DEATH – THAT IS CALLED …. HEROISM."

STILL ANOTHER OFFERING SIMPLY STATED THAT "BEING A HERO IS DOING THE RIGHT THING, REGARDLESS OF THE CONSEQUENCES"

IT'S ALSO BEEN SAID THAT NO ONE WHO WAS EVER CALLED A HERO THOUGHT OF THEMSELVES AS SUCH…

BUT LADIES AND GENTLEMEN, FRIENDS AND FELLOW LAW ENFORCEMENT OFFICERS, I SUBMIT TO YOU THAT THERE CAN BE NO DOUBT THAT THERE ARE HEROES AMONG US TONIGHT.
---
KSA LIFE SAVING AWARD
OFTEN TIMES WE SIMPLY DO WHAT NEEDS TO BE DONE TO SAVE A LIFE WHEN AND IF THE TIME EVER ARISES.

PERHAPS THAT'S WHAT CAME TO MIND FOR HANCOCK COUNTY SHERIFF BOZARTH WHEN HE RESPONDED TO A CRASH ON KY 3543 LAST YEAR.

BEING THE FIRST RESPONDER ON THE SCENE, HE HAD TO ACT QUICKLY TO SAVE THE LIFE OF AN UNRESPONSIVE MAN IN A VEHICLE WHO WAS NOT BREATHING.

ALTHOUGH WE DON'T USUALLLY TRY TO REMOVE VICTIMS UNTIL EMERGENCY HELP ARRIVES, SHERIFF BOSARTH KNEW HE HAD TO GET THE MAN OUT OF THE VEHICLE IN ORDER TO PERFORM NEEDED CPR ON HIM.

HE IMMEDIATELY REMOVED THE MAN ONTO THE GROUND AND STARTED CPR.

LATER INVESTIGATION REVEALED THAT THE MAN HAD CRASHED HIS CAR DUE TO EXPERIENCING A MEDICAL EMERGENCY.

AFTER EMS ARRIVED THE VICTIM WAS TRANSPORTED TO OWENSBORO HOSPITAL WHERE HE EVENTUALLY MADE A FULL RECOVERY.

EMS, THE HOSPITAL AND THE VICTIM ALL CREDITED THE QUICK AND DECISIVE ACTIONS OF SHERIFF BOSARTH FOR SAVING THE MAN'S LIFE.

THE VICTIM CAME BY THE SHERIFF'S OFFICE A FEW WEEKS LATER TO PERSONALLY THANK THE MAN WHO SAVED HIS LIFE AND TONIGHT WE OFFER HIM OUR THANKS, AND HONOR HIM WITH THE KSA LIFE SAVING AWARD.

PRESENTED TO HANCOCK COUNTY SHERIFF DALE BOZARTH.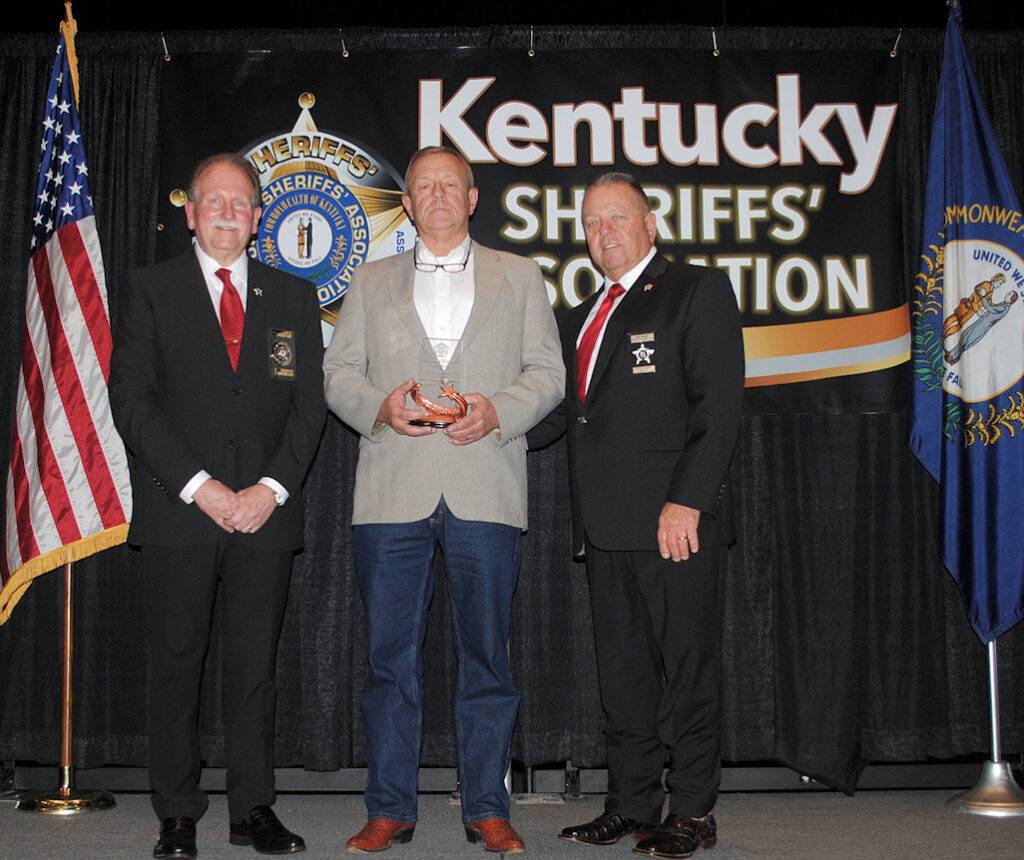 ---
KSA MEDAL OF VALOR
A LAW ENFORCEMENT OFFICER ARRIVES ON THE SCENE OF A POTENTIALLY DANGEROUS SITUATION THAT REQUIRES IMMEDIATE ACTION TO POSSIBLY SAVE A LIFE.

BUT WHAT IF THE ACTION TAKEN COULD PLACE THE OFFICER'S OWN LIFE AT GREAT RISK.

THAT WAS THE SITUATION FACING NELSON COUNTY DEPUTY SHERIFF DENNIS WELLS WHEN HE ARRIVED AT THE SCENE OF A REPORTED HOUSE FIRE ON MURRAY'S RUN ROAD IN NELSON COUNTY.

BEING THE FIRST AND ONLY FIRST RESPONDER TO ARRIVE – HE WAS TOLD BY NEIGHBORS THEY BELEIVED THERE WAS AN ELDERLY WOMAN STILL INSIDE THE HOUSE.

NOT BEING A FIREFIGHTER, NOR HAVING A FIRE RESISTANT COAT OR THE BREATHING EQUIPMENT REQUIRED TO ENTER A HOUSE ON FIRE, AND FILLED WITH DENSE SMOKE, DEPUTY WELLS HAD TO MAKE A QUICK DECISION.

WITHOUT HESITATION HE GOT DOWN ON HIS HANDS AND KNEES AND CRAWLED INTO THE BURNING HOUSE IN AN ATTEMPT TO FIND ANY SIGNS OF LIFE.

AFTER A TIME IT WAS CONFIRMED THAT THE HOUSE WAS IN FACT….. EMPTY.

AND SO…. IT IS FOR THE ATTEMPT…..THE WILLINGNESS TO PUT THE LIFE OF A TOTAL STRANGER BEFORE HIS OWN…. THAT THE KSA MEDAL OF VALOR IS PRESENTED TO NELSON COUNTY DEPUTY SHERIFF DENNIS WELLS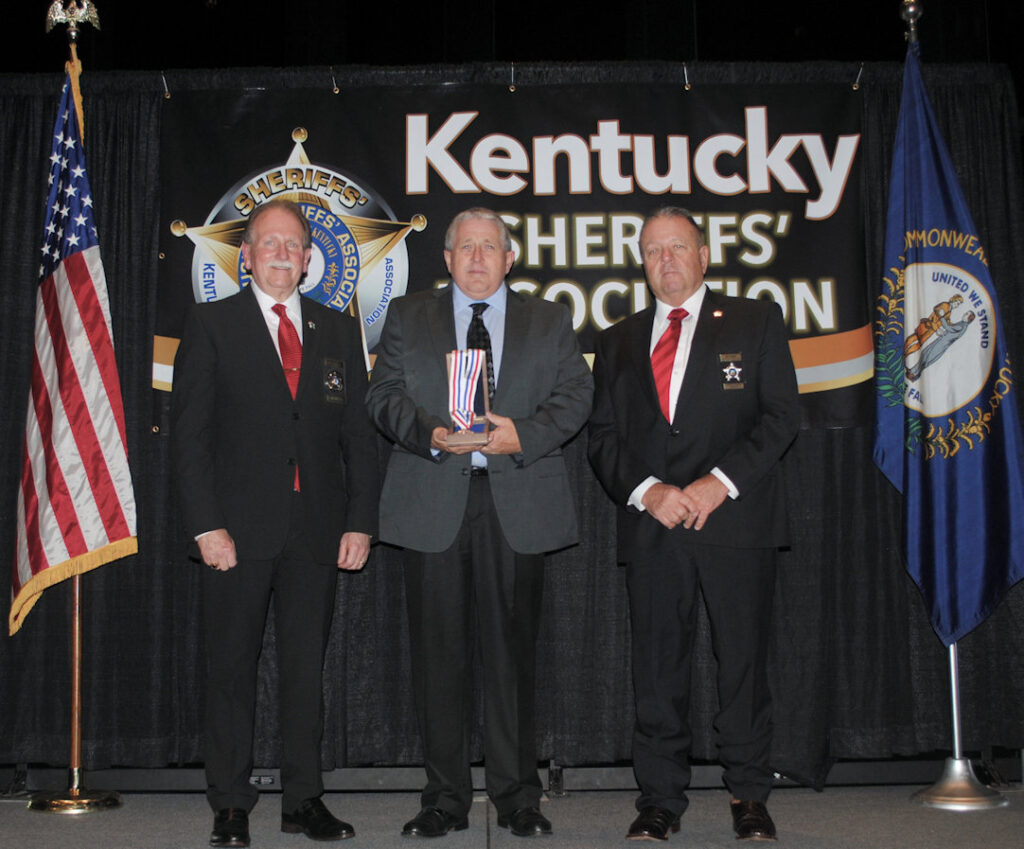 ---
KSA MEDAL OF HONOR
THE IMPORTANCE OF UPDATED INFORMATION RELAYED THROUGH DISPATCH WHILE DEPUTIES ARE IN ROUTE TO A DANGEROUS SITUATION CANNOT BE OVER EMPHASIZED.

THE INFORMATION GIVEN TO THE SIX LAUREL COUNTY RESPONDERS LAST MAY 31ST HELP THEM PREPARE MENTALLY AND EMOTIONALLY FOR WHAT THEY WERE ABOUT TO ENCOUNTER.

"THERE'S A MAN WITH A SHOTGUN AND HE'S POINTING IT AT ANOTHER MALE SUBJECT".

HE HAD BEEN MAKING THREATS AND HAD ALREADY FIRED THE GUN INTO THE AIR SEVERAL TIMES EARLIER. UPON ARRIVAL, THE SIX DEPUTIES EXITED THEIR VEHICLES AND IMMEDIATELY TO COVER.

ATTEMPTED NEGOTIATIONS WITH THE SUBJECT ONLY RESULTED IN HIM BECOMING MORE IRATE AND TELLING THEM THEY WOULD HAVE TO KILL HIM.

THE STANDOFF CONTINUED FOR NEARLY AN HOUR ANND A HALF BEFORE THE MAN POINTED HIS SHOTGUN DIRECTLY AT THE DEPUTIES. AT THIS POINT, DEPUTIES WERE FORCED TO DEFEND THEMSELVES AND FIRED SEVERAL SHOTS KILLING THE MAN ENDING A SITUATION THAT WAS BECOMING MORE DANGEROUS WITH EACH PASSING MINUTE.

FOR THEIR COURAGE TO RISK THEIR LIVES TO PROTECT OTHERS AGAINST AN ARMED SUBJECT BENT ON SELF DESTRUCTION AND ANYONE ELSE HE ENCOUNTERED, THE KSA MEDAL OF HONOR IS HEREBY PRESENTED TO THE FOLLOWING LAUREL COUNTY RESPONDERS:

MAJOR CHUCK JOHNSON
SGT. RICHARD DALRYMPLE
SGT. BRETT REEVES
DETECTIVE JAKE MILLER
DEPUTY ALLEN TURNER
DEPUTY BRENT FRANCE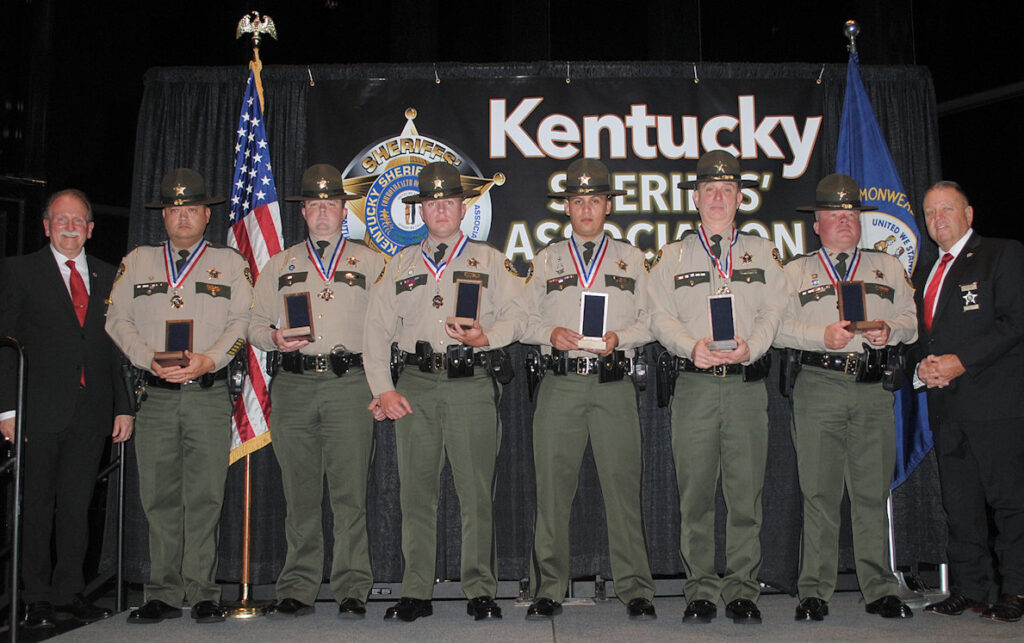 ---
KSA MEDAL OF HONOR
KENTUCKY SHERIFFS SERVE WARRANTS…LOTS OF WARRANTS…..AND MOST OFTEN THOSE WARRANTS ARE SERVED WITHOUT MUCH CONFLICT……UNTIL THEY ARE NOT…..

SUCH WAS THE CASE LAST NOVEMBER 4TH WHEN MARION COUNTY DEPUTIES, TRISTAN HAYDEN AND JOHN PURDOM ATTEMPTED SERVICE ON A MAN AT A RESIDENCE AT 2:24 IN THE AFTERNOON.

AS THE DEPUTIES APPROACHED THE SUBJECT OF THE WARRANT HE BARRICADED HIMSELF IN AN OUTBUILDING ON THE PROPERTY. DEPUTIES WERE ABLE TO EVENTUALLY GAIN ACCESS TO THE BUILDING WHERE THEY FOUND THEIR SUSPECT HIDING IN AN UPPER LOFT. WHEN ORDERED TO COME DOWN HE JUMPED TO THE FLOOR AND PRODUCED A HANDGUN THAT HE FIRED DIRECTLY AT BOTH DEPUTIES. WHEN THE MAN TRIED TO RETRIVE ANOTHER GUN HE HAD HIDDEN, DEPUTY HAYDEN FIRED MULTIPLE ROUNDS STRIKING THE SUSPECT. IT WAS ONLY AFTER THEY WERE FINALLY ABLE TO GET THE SITUATION UNDER CONTROL WITH THE SUSPECT IN CUSTODY AND EMS CALLED FOR ASSISTANCE, THAT IT WAS DISCOVERED THAT DEPUTY HAYDEN HAD SUSTAINED TWO GUNSHOT WOUNDS DURING THE EXCHANGE OF GUNFIRE. ONE FORTUNATELY STRUCK HIS BODY ARMOR, BUT THE OTHER HIT HIS LOWER ABDOMEN BELOW THE COVERAGE OF HIS VEST.

BOTH THE SUSPECT AND DEPUTY HAYDEN SURVIVED THE ORDEAL …

THE SUSPECT WAS CHARGED WITH TWO COUNTS OF ATTEMPTED MURDER OF A POLICE OFFICER AND DEPUTY HAYDEN HAS SINCE RETURNED TO ACTIVE DUTY.

FOR THEIR COURAGE TO RISK THEIR LIVES IN THE ARREST OF AN ARMED MAN WHO WAS INTENT ON KILLING THEM BOTH……

THE KSA MEDAL OF HONOR IS PRESENTED TO MARION COUNTY DEPUTY SHERIFFS……JOHN PURDOM AND TRISTAN HAYDEN.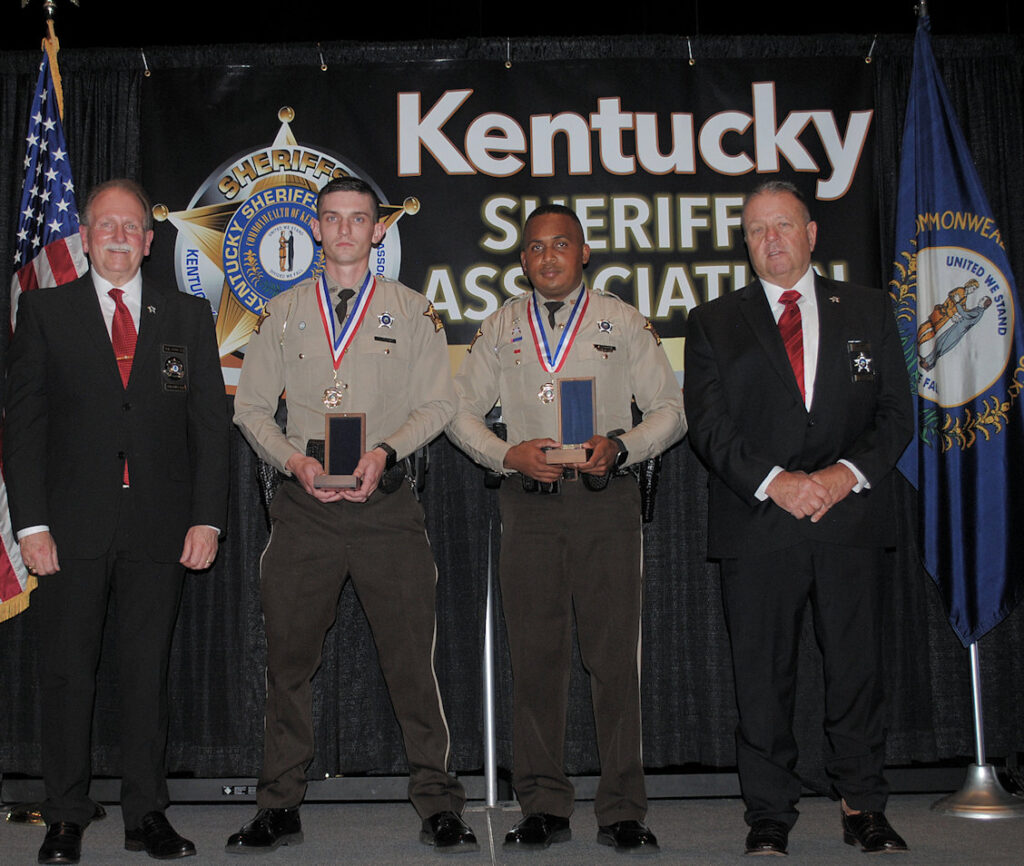 ---
KSA MEDAL OF HONOR
ONE STATISTICAL STUDY REVEALED THAT 41% OF POLICE OFFICERS KILLED DURING A FIVE-YEAR PERIOD INVOLVED DOMESTIC RELATED ISSUES.

IN FACT, DOMESTIC VIOLENCE CALLS HAVE BECOME SO DANGEROUS FOR LAW ENFORCEMENT, THAT MANY AGENCIES HAVE MANDATED THAT ALL DOMESTIC RELATED CALLS BE ANSWERED BY NO LESS THAN TWO OFFICERS.

BUT, WE ALL KNOW THAT WITH THE SHORTAGE OF PERSONNEL ESPECIALLY IN SMALL AGENCIES, SUCH A MANDATE IS OFTEN DIFFCULT TO SUSTAIN.

JUST THIS PAST SEPTEMBER 30TH FORTUNATELY THERE WERE TWO NELSON COUNTY DEPUTIES WHO ANSWERED THE CALL, DEPUTIES BRIAN ADAMS AND JONATHAN GREER WERE ACTUALLLY LEAVING A DOMESTIC SCENE THEY THOUGHT WAS UNDER CONTROL, WHEN SUDDENLY IT WAS NOT. AT LEAST NOT IN THE MIND OF THE SUSPECT WHO CAME OUT ONTO THE PORCH WITH AN AUTOMATIC RIFLE AND OPENED FIRE ON THE DEPUTIES, STRICKING DEPUTY ADAMS IN THE RIGHT ARM.

BOTH DEPTUTIES RETURNED FIRE AS THE MAN RETREATED BACK INSIDE THE HOUSE. DEPUTY GREER PLACED A TOURNIQUET ON DEPUTY ADAMS' ARM AS THE MAN RETURNED AND BEGAN SHOOTING AGAIN, SHOOTING AT BOTH OF THEM AND THEIR CRUISERS WHICH WERE STRUCK MULTIPLE TIMES.

AGAIN DEPUTIES RETURNED FIRE STRIKING THE MAN BEFORE HE RETREATED BACK INSIDE. A BARRICADED STANDOFF LASTED FOR SOME TIME BEFORE THE SUSPECT FINALLY SURRENDERED AND TAKEN INTO CUSTODY.

THE SUSPECT IS FACING MULTIPLE FELONY CHARGES.

DEPUTY ADAMS IS STILL RECOVERING FROM HIS WOUNDS.

FOR THEIR COURAGE AND ATTENTION TO DUTY UNDER IMMINENT RISK OF LIFE WITH AN ARMED SUSPECT….

THE KSA MEDAL OF HONOR IS PRESENTED TO NELSON COUNTY DEPUTY SHERIFFS BRIAN ADAMS AND JONATHAN GREER.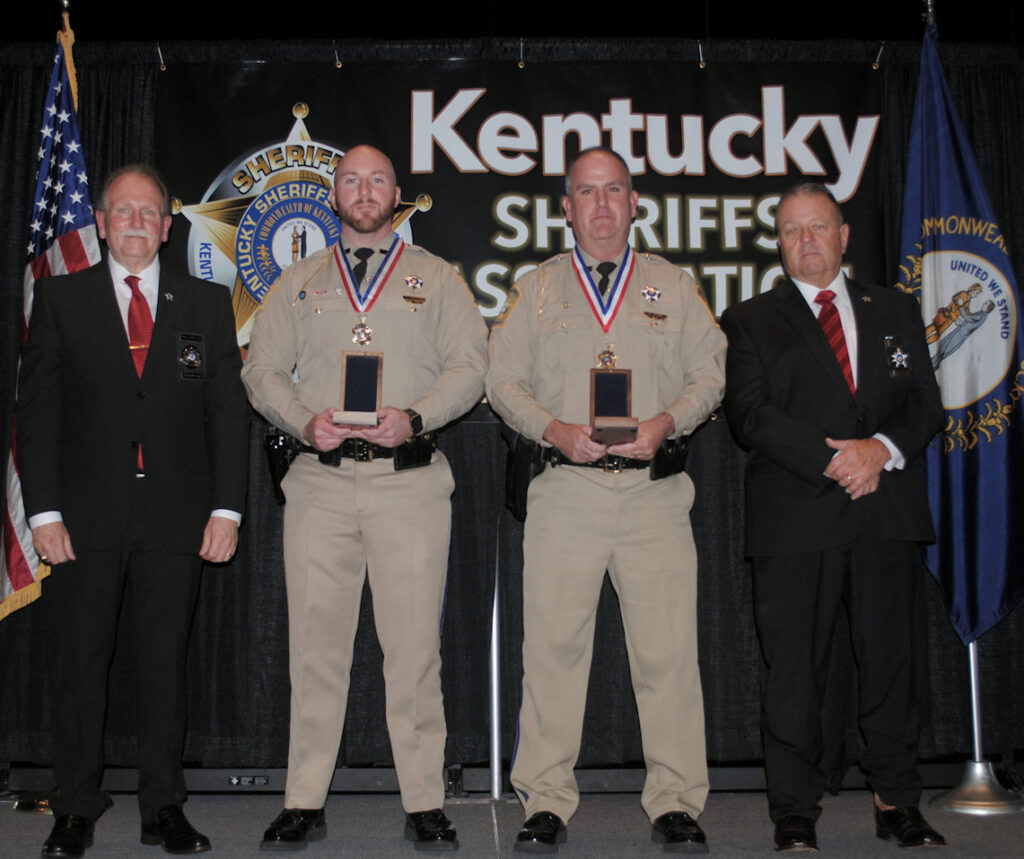 ---
KSA MEDAL OF HONOR
THE COMMONWEALTH OF KENTUCKY WAS ONE OF THE HARDEST HIT STATES THIS PAST YEAR WITH DISASTERS AND LOSS OF LIFE………..

JUST AS WE WERE BEGINNING TO FEEL THE DOWNTURN OF THE COVID VIRUS INFECTION …..JULY BROUGHT THE RAIN….LOTS OF RAIN. FROM 6 TO 16 INCHES OF RAIN FELL IN PARTS OF EASTERN KENTUCKY……AND MANY OF OUR SHERIFF'S OFFICE'S FOUND THEMSELVES RESPONDING TO SWIFT WATER RECUES IN ONE OF THE WORST FLOODING DISASTERS IN KENTUCKY'S HISTORY.

BUT EVEN BEFORE THE RAIN CAME, OUR STATE EXPERIENCED A DIFFERENT FORM OF DISASTER – A DEADLY SHOOTOUT IN THE SMALL TOWN OF ALLEN KENTUCKY, LOCATED IN FLOYD COUNTY.

IT WAS THURSDAY EVENING, JUNE 30TH WHEN DEPUTIES ARRIVED TO SERVE A DOMESTIC VIOLENCE WARRANT ON A MAN ARMED WITH A NUMBER OF WEAPONS, READY AND WAITING TO AMBUSH ANY APPROACHING DEPUTIES.

AS SOON AS THE DEPUTIES ARRIVED, A BARRAGE OF GUNFIRE ERRUPTED THAT SHERIFF HUNT SAID, COULD ONLY BE DESCRIBED AS…. "PURE HELL".

AFTER SEVERAL HOURS, IT ALL FINALLY ENDED WITH THE MAN'S ARREST, BUT NOT BEFORE HE KILLED A FLOYD COUNTY DEPUTY SHERIFF, TWO PRESTONBURG POLICE OFFICERS, A SHERIFF'S K-9 DOG AND SERIOUSLY WOUNDED ANOTHER DEPUTY.

COURAGE, HONOR, DUTY, SACRIFICE ARE BUT A FEW OF THE WORDS WE COULD USE TO DESCRIBE THE ACTIONS OF THESE BRAVE MEN ON THAT FATEFUL DAY THAT CHANGED THEIR LIVES AND THAT OF THE COMMUNITY THEY SERVE….. FOREVER.

FOR EXTRORDINARY COURAGE WHILE ENGAGED WITH AN ARMED ADVERSARY AT IMMINENT RISK OF LIFE, THE KSA MEDAL OF HONOR IS PRESENTED TO THE FOLLOWING:

FLOYD COUNTY DEPUTY DARRIN LAWSON
FLOYD COUNTY DEPUTY KRIS HALL
FLOYD COUNTY DEPUTY DUSTY NEWSOME
FLOYD COUNTY DEPUTY WILLIAM PETRY

KENTUCKY LAW READS THAT IT IS A FELONY TO ATTACK OR KILL A POLICE K-9 PUNISHABLE FOR UP TO 5 YEARS IN PRISON. SO THE KSA WOULD LIKE TO HONOR THE MEMORY AND SERVICE OF FLOYD COUNTY K-9 DRAGO WITH THE SPECIAL SERVICE AWARD.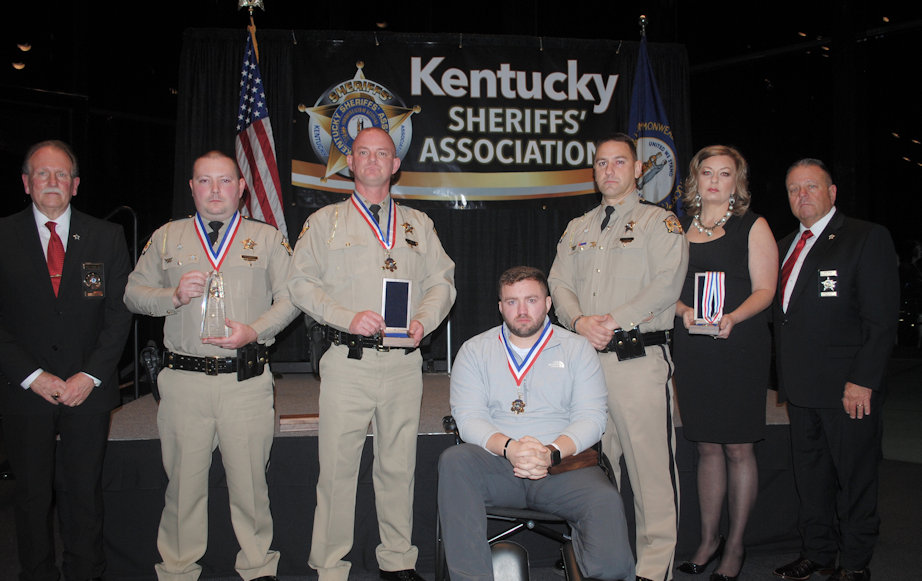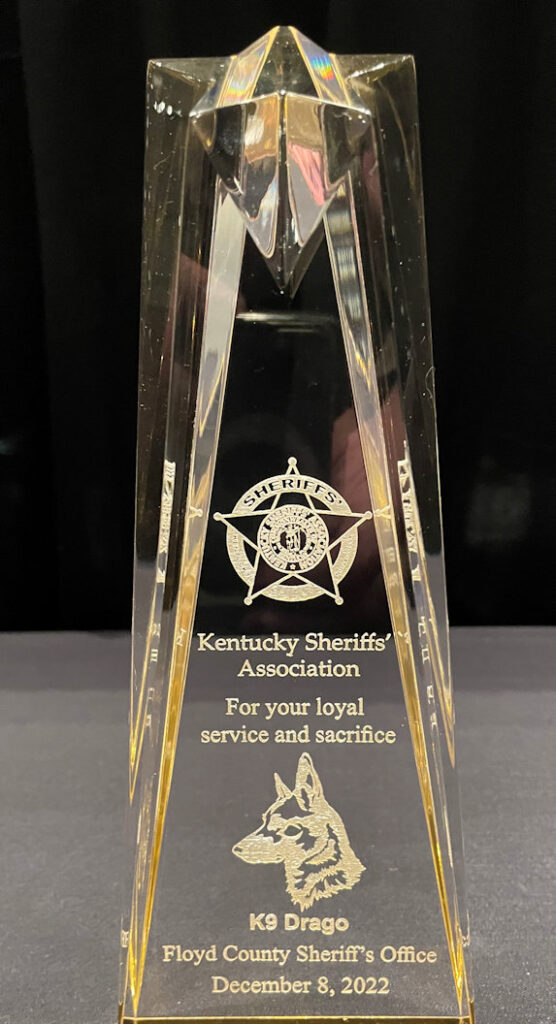 ---
DEPUTY SHERIFF OF THE YEAR
A BIBLE VERSE READS….

GREATER LOVE HATH NO MAN THAN HE LAY DOWN HIS LIFE FOR HIS FRIENDS.

OUR KSA DEPUTY OF THE YEAR LAY DOWN HIS LIFE NOT JUST FOR HIS FRIENDS…..OR JUST FOR THOSE WHO WEAR A UNFORM …BUT FOR ALL OF US…ALL WHO BELIEVE IN A PEACEFUL, ORDERLY SOCIETY WHERE HUMAN LIFE IS VALUED AND SAFE-GUARDED BY THE PEACEMAKERS.

FLOYD COUNTY DEPUTY SHERIFF WILLIAM PETRY WAS NOT SELECTED TO BE OUR KSA DEPUTY OF THE YEAR BECAUSE HE DIED IN THE LINE OF DUTY, BUT BECAUSE OF THE WAY HE LIVED AND SERVED THROUGHOUT HIS LIFE.

HE SERVED AS A POLICE OFFICER, A STATE TROOPER, A FIREFIGHTER, AND A DEPUTY SHERIFF. HE WAS A MENTOR TO YOUNGER DEPUTIES. HE WAS A FAMILY MAN. HE WAS A CALM PRESENCE, IN WHAT CAN OFTEN BE A HECTIC ENVIORNMENT.

HE ALWAYS TRIED TO DO THE RIGHT THING EVEN WHEN THERE WERE FEW OPTIONS. HE SERVED US WELL. HE GAVE US ALL HE HAD, AND WE ARE HONORED TO CALL HIM BROTHER.

THE KSA 2022 DEPUTY OF THE YEAR IS FLOYD COUNTY DEPUTY SHERIFF, WILLIAM PETRY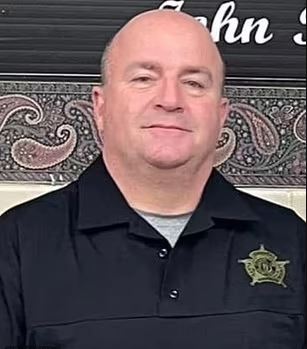 ---
KSA SHERIFF OF THE YEAR
OUR SHERIFF OF THE YEAR HAS OVER 30 YEARS OF LAW ENFORCEMENT SERVICE AS A POLICE OFFICER, A KENTUCKY STATE POLICE TROOPER AND A SHERIFF.

SHERIFF HUNT IS A COP'S COP. IN OTHER WORDS, HE WALKS THE WALK.

FOLLOWING THE TRAGIC EVENTS OF JUNE 30TH. JOHN WAS THE ONE MANY IN HIS COUNTY LOOKED TO FOR ASSURANCES THAT AS A COMMUNITY, THEY WOULD BE OK AND SURVIVE AN ORDEAL UNLIKE ANY THEY HAD EVER EXPERIENCED.

EVEN THOUGH HE WAS PERSONALLY FEELING THE LOSS OF ONE OF HIS OWN, HE LITERALLY TOOK A LEADERSHIP ROLE IN HELPING TO PULL THAT SMALL COMMUNTIY TOGETHER AND THEN AGAIN LESS THAN AMONTH LATER WHEN HIS COUNTY WAS HIT WITH HISTORIC FLOODING, HE PROVIDED ASSISTNCE TO SWIFT WATER RESCUE TEAMS IN THE REMOVAL OF VICTIMS FROM HOMES SUBMERGED IN RAGING FLOOD WATERS.

HE PERSONALLY USED HIS OWN SWIFT WATER TRAINING TO HELP RESCUERS, WADING INTO WAIST DEEP WATERS TO HELP FIND AND RESUE VICTIMS. AFTERWARDS HE CONTINUED TO AID IN THE REMOVAL OF DEBRIS THE FLOOD WATERS LEFT BEHIND. HE HELPED PROVIDE FLOOD VICTIMS WHO SUDDENLY FOUND THEMSELVES HOMELESS, WITH NECESSARY PROVISIONS TO GET THROUGH. HE ORGANIZED DISTRIBUTION CENTERS AND ASSISTED WITH SAFE AND EFFECTIVE RECOVERY EFFORTS.

HE WORKED TIRELESSLY TO INSURE THE SAFETY OF HIS COMMUNITY.

SHERIFF HUNT HAS BEEN DESCRIBED AS A "QUIET GIVER". FROM HIS PROGRAM TO REGULARLY CHECK ON THE ELERLY IN HIS COMMUNITY, TO THE FOUNDATION HE ESTABLISHED TO SUPPORT DOZENS OF LOCAL NEEDS, HE IS CONSTANTLY LOOKING FOR WAYS TO SIMPLY HELP OTHERS.

FOR THESE REASONS AND SO MANY MORE, YOUR KSA AWARD COMMITTEE IS HONORED TO PRESENT THE 2022 KSA SHERIFF OF THE YEAR AWARD TO FLOYD COUNTY SHERIFF JOHN HUNT